If you want buy a rattan bag, you just click this link :
https://www.etsy.com/shop/MayaLeather
and find a good price of rattan bag from Bali.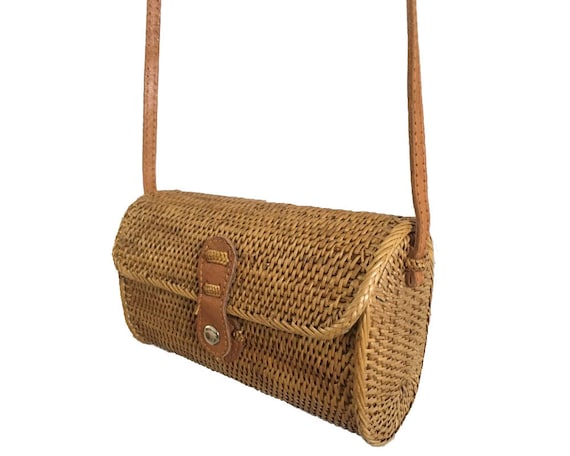 Bali Handwoven Rattan Bag, Natural Ata Grass handcrafted Bag, Shoulder Bags
Its suitable for summer season, gift for her and traveling to beach with rattan bags
Rattan Handbags Specification:
1. Rattan handbags:
- Width : 7 cm / 2.7"
- Length : 20 cm / 7.8"
- Height : 12 cm / 4.7"
2. Genuine leather strapping : 110 cm / 43"
3. Bags Inner with fabric lining inside (sent at random)
Shipping & Handling
Shipping & Handling will be made 1 - 3 days after payment completed by Paypal and shipment will be made by Regular shipment by Indonesia Post office.
If you not received the package as per mention in our shipping time, Please contact us to follow up the shipment process.
How to care the bags
1. Clean
Always handle your rattan bag with clean hands and use brush and wet cloth to remove dust and drying it on the sun for 1 to 2 hours.
2. Store
Please do not store rattan bag from humid places.
This lovely lightweight rattan bags are all handwoven by talented artisans in Bali, which means:
1. The size might be slightly different due to manual measurement
2. We can't guarantee the color of the bags are all exactly the same as it is made of rattan
3. Please do not put things over 2 Kg inside on the bags
Thank you has been look and buy our bags, for more information, feel free to contact us:
Love, Maya
Facebook Page : https://www.facebook.com/ismayaleather/
For order please mention your cell phone number for ease of delivery in your country.